Regular price
Sale price
$198.00
Unit price
per
Sale
Sold out
You might be here because you searched "storage box 4wd" or at least used 2 of those words in your search. Well, your search engine has directed you to the right place!
Expedition134 storage boxes are simply the best 4wd storage box on the market! 
FRUSTRATED BY HEAVY CUMBERSOME STORAGE BOXES? 
If you have used the big heavy types of boxes, then you might already know they are a great strong product but that they have some disadvantages too. One of them is their baulk and weight. These types of storage cases are what is called a roto-moulded product. And for those of us becoming more aware of the amount of weight we carry in our vehicles, understand that it all counts towards our overall vehicle and trailer weight calculations. And beyond that they can be a pain to lift up into ute trays and onto roof racks.
To solve this, we designed the Expedition Box 4wd storage box. And, we opted to use the Injection Moulding process, which would allow us to build in the features we wanted. Yes, injection moulds are much higher tech and thus far more expensive with all the precision moving parts and hydraulics, but we believe the end product is well worth it. Importantly injection moulding allowed us to be precisely in creating a robust tough box without the unnecessary weight.


A Multi-Purpose Camping Storage Box
Looking for a versatile, easy-to-clean storage box that can take a beating? Look no further than the Expedition134 Heavy Duty Plastic Storage Box. This provides the perfect room, eye-catching design and functionality needed for your camp storage. Order your Heavy Duty Camping Storage Box today and rest easy knowing your belongings will be safe and sound.
The Ultimate Heavy Duty 4×4 Storage Box
This tough box is perfect for use in saltwater environments and can be tied down easily on the roof rack and accessed from all sides on your next camping trip – making it ideal for storing gear on boats, camper trailers, 4×4's, pontoons, or the beach. 
The Perfect Equestrian Tack Box
This is easily your next portable tack box. Featuring easy-tie down handles and a nesting design that makes it easy to transport and store, but to also stand up on for mounting.
External Dimensions: (578mm L x 440mm W x 345mm H)
Internal Dimensions: (Tapers down to base)
Top: (501mm L x 381mm W x 288mm H)
Base: (497mm L x 356mm W x 288mm H)
Expedition 134 boxes are made from a special material to maximise UV stabilisation and impact resistance.
7 REASONS TO LOVE EXPEDITION 134 BOXES

THE FIRST BOX You Can Tie Down and Still Open the Lid - Need a box you can tie down easily? The Expedition134 box has external tie-down points which means you can secure the box on your roof rack, ute, in your canopy or wagon, or on your boat while having easy access to your contents inside.
TOUGH LID Loading up to 120kg - The unique injection moulding and design of the Expedition134 box saves on unnecessary weight. Allowing multiple other uses such as a step, seat or table.

NO METAL No Rust + No Rattles - Expedition134 boxes contain no metal components, so nothing to rust or corrode in even the harshest environments.

WEATHER SEAL Keep Your Gear Protected - Featuring a customised weather-proof seal and dedicated ridge design, your gear will be protected from dust, weather, insects, and rodents.

LOCKABLE Safe and Secure - secure and lockable latches that provide easy protection against scavengers and won't degrade over time. Simply attach a padlock in the dedicated space under the outer rim on each latch for greater security, where it won't rub against gear or rattle on other metal.

STACKABLE Easy & Stable Storage - Being stackable, the Expedition134 box allows the user to lock one box on top of another as the top of the lid on one box interacts with the base of another.

FOOD GRADE Safe Food Storage - Food grade material makes it great for storing supplies and staples for any trip.
PURCHASED CHEAP INFERIOR AND WEAK BOXES IN THE PAST?
"The bitterness of poor quality remains long after the sweetness of low price is forgotten."
We had tried many boxes in the past and were often frustrated by the ability of them to be belted around in the back of the truck while on a remote trip. There is nothing worse than being remote or away camping and gear has been damaged, or the weather and dust has made it onto your clothes. It's frustrating and painful to find a fix when away. It's the last thing you want to worried about.
Our precision injected moulded expedition boxes are made to last and last trip after trip. We back our product with a 100% money back guarantee – because if you are unhappy so are we! We also provide a 2 year warranty on our expedition boxes for added piece of mind!
DUST AND WEATHER POOF
The Expedition134 boxes have been fitted with one of our key features – a custom weather seal and a matching high ridge to keep out driving rain and prevent dust leaking in.  Relax in confidence that your gear will be well protected in an Expedition134 storage box.
EASILY ACCESS CONTENTS WHEN IT'S ALL TIED DOWN
Expedition 134 boxes have dedicated tie-down points on the corners that allow easy opening of the box while it is still secured on the roof!  No more being covered in dust and grime from pulling ropes and straps off and then having to re-tie them again.  It doesn't get any better than that.
BOTHERED BY RUST AND RATTLES OF BOXES?
It's beyond annoying when on a long trip to a destination you hear continual tinny rattles that metal makes from those corrugations!
If you have used those big heavy roto-moulded boxes in the past you will know most of them have metal components. And if you have used them in the professional or commercial marine environment, then you'd also know that the hinges and latches rust out pretty quickly too, which is why they aren't found much in that industry.
We solved this problem through our superior technical precision of injection moulding. This allowed us to remove all metal from our expedition products. If your using them at sea or at the beach then no need to worry about metal rusting. Importantly our boxes won't create pain in the arse rattles in your vehicle!
EVEN FLOORS FOR STACKING GEAR
Heavy rotomoulded boxes are designed with multiple ridges and channels both across the floor and sides of the box to provide their strength.  Unfortunately, this trait also makes packing them a real pain compared to a nice flat smooth floor.  Food tins, jars, and bottles all will fall over no matter how tightly you pack them, often leaving you with a mess to clean up later.
The Expedition134 box was engineered and designed to have nice smooth flat floors and rounded corners to address this problem.  This makes stacking and packing a super simple affair and helps keep your gear all nicely ordered. 
WASTED SPACE WHEN NOT IN USE
A frustration of some roto-moulded storage boxes is the amount of room they take up when not in use. Roto-moulding is what allows these types of boxes to have the vertical or square walls and corners that we at Open Sky Touring used to think were necessary for ease of packing. A problem created with the vertical or square walls and corners is that these storage boxes can-not be nested when empty thus taking up valuable space in the shed or garage.
The expedition box design allows the lid to be removed and the box body to be nested inside another box body saving over 50% of the space.
LOCKABLE 
Leaving your gear on the roof rack or in the back of a ute is great, but when you walk into the pub for a coldie after a long day, it would be good to know the gear inside your storage box is safe.
The Expedition Box allows for each latch to be locked. Importantly we have designed the padlock position to be under the outer rim which means the padlock won't rub on other gear inside your vehicle or rattle on other metal.
LID WON'T POOL WITH WATER AT THE CAMPSITE!
Rain at the camp is not ideal but we all know it happens. It's more of a frustration when the lid of your box fills with water. Usually meaning you get wet when removing the lid or your contents inside do.
We designed the lids so the water runs off and that puddle of water you forgot about from the overnight rain won't end up on your lap in the morning.
EASY TO CLEAN
Nothing worse than a frustrating session cleaning up at the end of a long camping trip right?  When you've been smashed all over the Cape, or just wanting to relax after finishing a long drive, you just don't want to fight to get rid of all the dust and mud throughout your gear.  One of the biggest problems with the heavy rotomoulded boxes is that annoying inside lip that keeps the dirt and muck in, no matter how much you try to hose it out.
Well, that pain is a thing of the past with the Expedition134 boxes due to the clever design incorporating that clean smooth flat floor and sidewalls with no annoying overhanging lip to trap the dirt and mud.  Simply give them a hose out, wipe them down and you're done with the cleanup.
Click Here to view all of Our Australian Made Camping Storage Solutions.
Share this product with a friend
View full details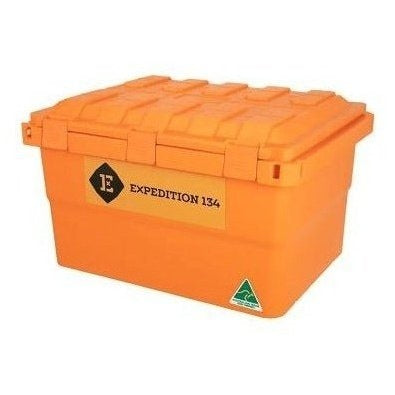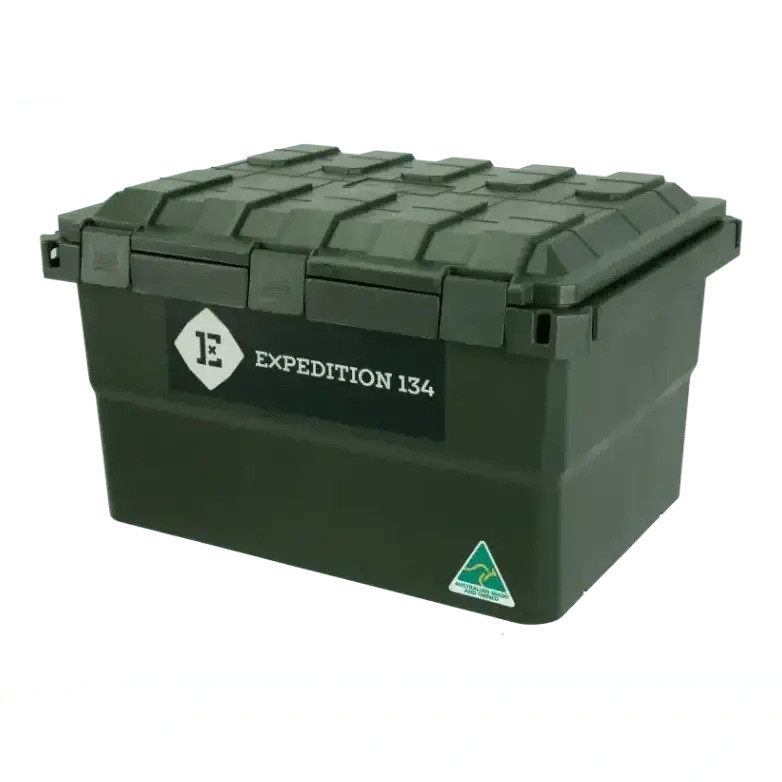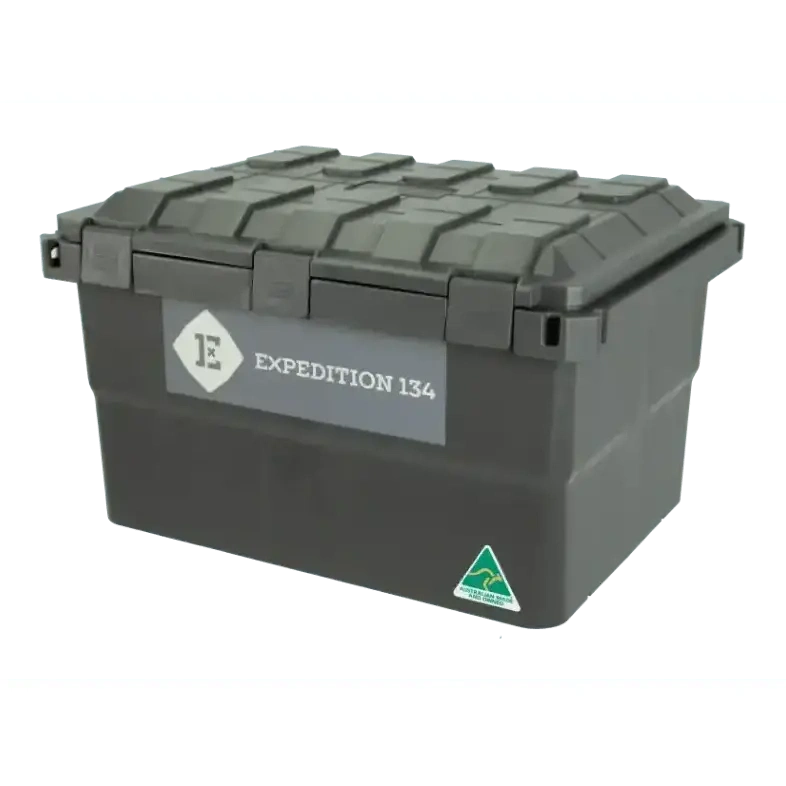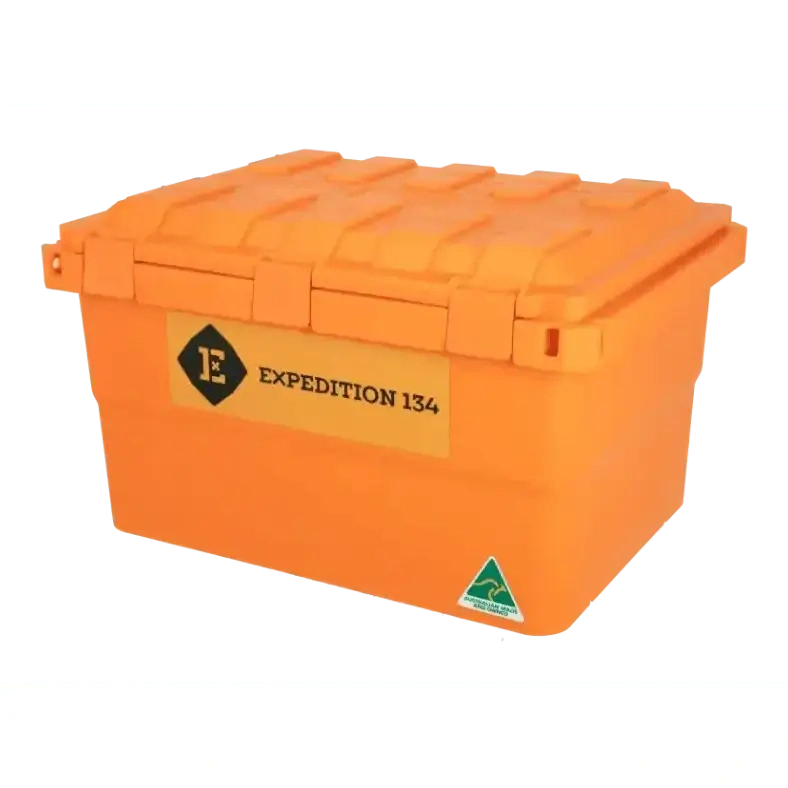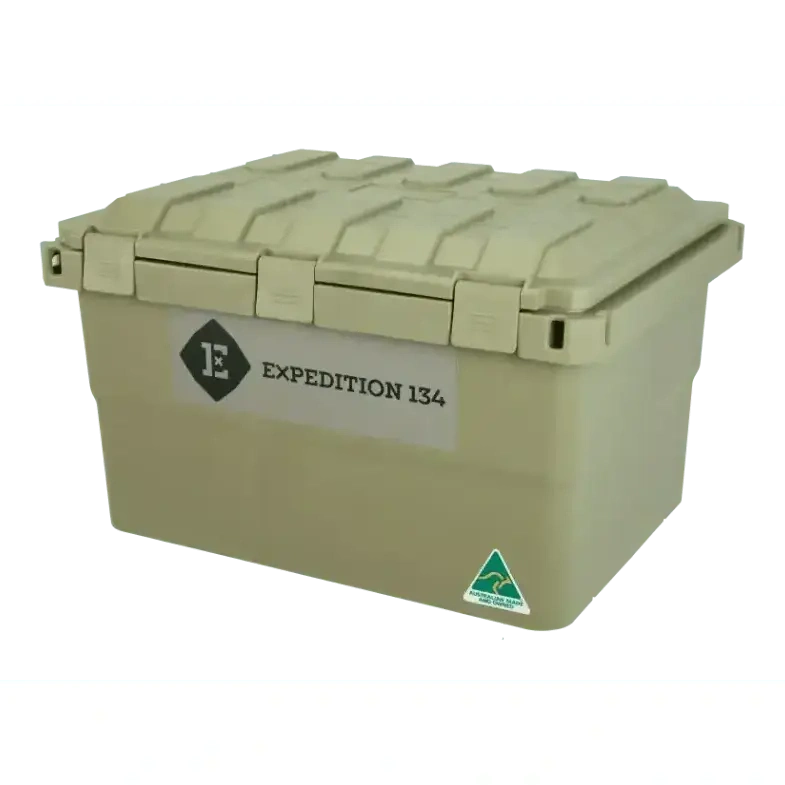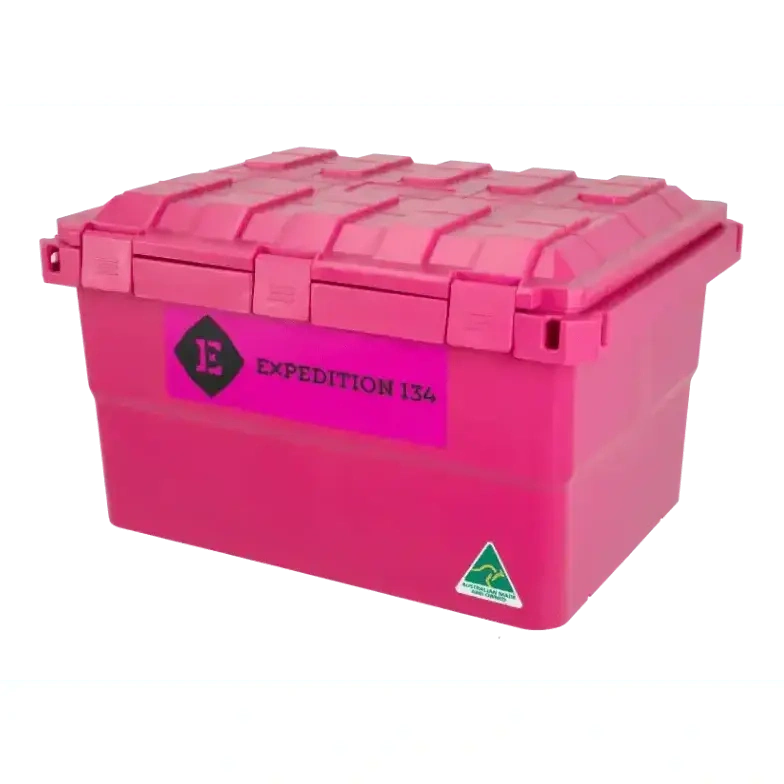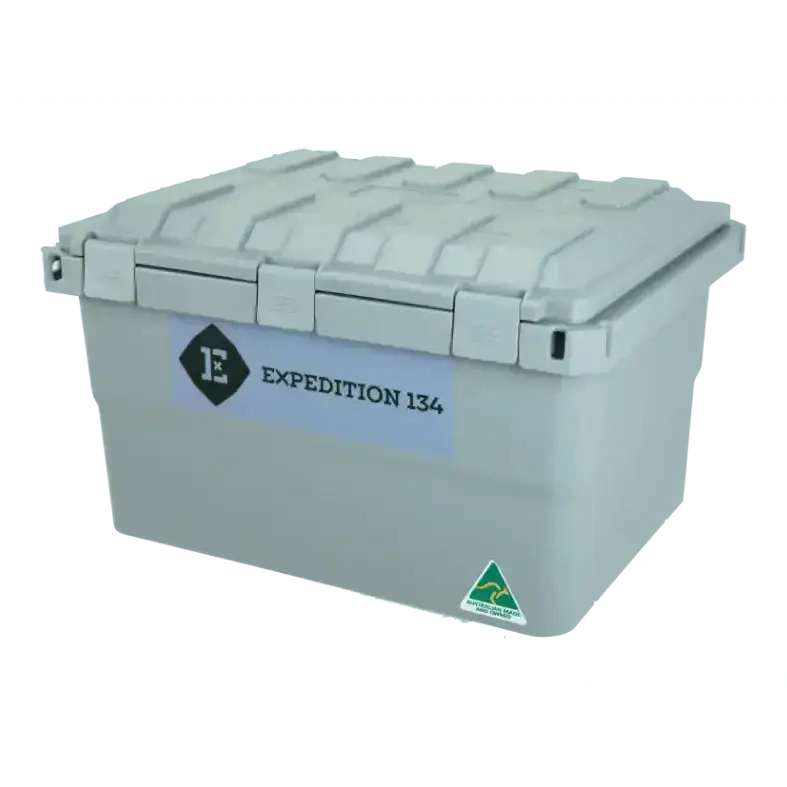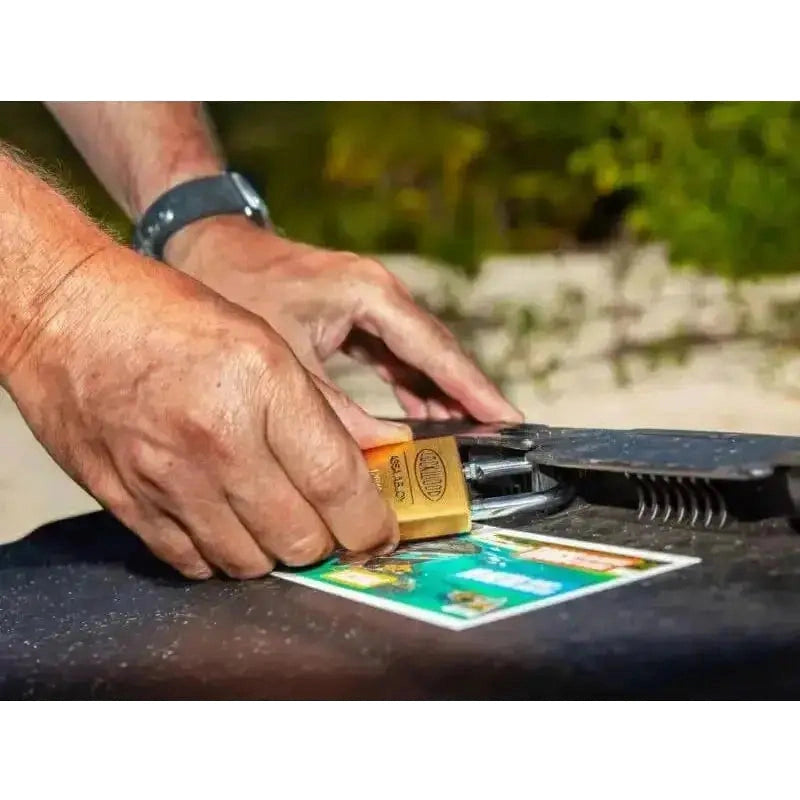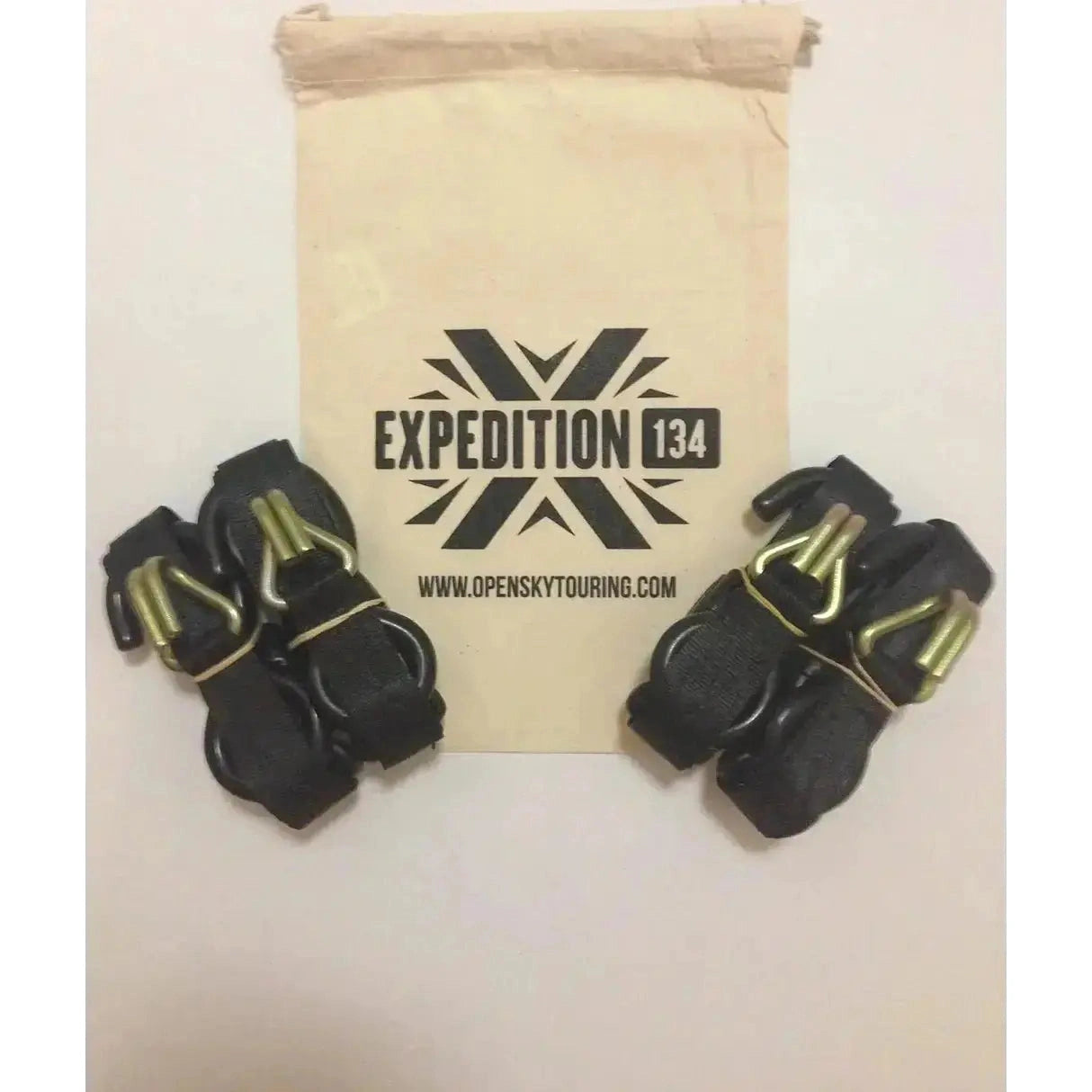 Expedition 134
Very fast delivery and well packed. Product is lightweight for the size of the box and well made material and hinges/clips.
Thanks for taking the time to leave a review Sofia! It's highly appreciated.
- Jaidyn